As we celebrate International Women's Day and National Women's History Month in March, we're taking the opportunity to pause and reflect on the impact the global health crisis has had on today's workforce. While the pandemic has certainly been hard on everyone, there's no denying that women — and women of color in particular — have borne the brunt of the crisis on behalf of their family, often taking a step back from their careers to care for sick family members or to help with virtual learning. McKinsey & Company, in their article COVID-19 and Gender Equality: Countering the Regressive Effects, note that, "female job loss rates due to COVID-19 are about 1.8 times higher than male job loss rates globally." On top of that, women are more likely to work in frontline positions that have been disproportionately impacted by the pandemic, including healthcare, education, retail, and the hospitality industry. It's no surprise that people (again, a higher percentage of whom are female) have been leaving the workforce or switching careers at a high rate throughout the pandemic in what has been deemed "The Great Resignation."
Now is a good time for organizations to take stock of how their policies and cultures could be improved to create healthy environments for all workers — while paying particular attention to groups that have been historically marginalized and/or disproportionately impacted by the global health crisis.
According to Lean In's Women in the Workplace Annual Report, organizations looking to create a more equitable and inclusive workplace should focus on two key priorities: "1) advancing all aspects of diversity and inclusion, and 2) addressing the increasing burnout that all employees — but particularly women — are experiencing." The report acknowledges that while critical improvements have been made in these areas in recent years, women continue to be underrepresented in management positions and women experience more frequent and recurring frustrations at work, including being passed over for opportunities and being silenced or undermined. And, women with historically marginalized identities face even higher levels of discrimination and exclusion. So, what can organizations do today to make a difference in the lives of working women everywhere?
1. It starts with representation.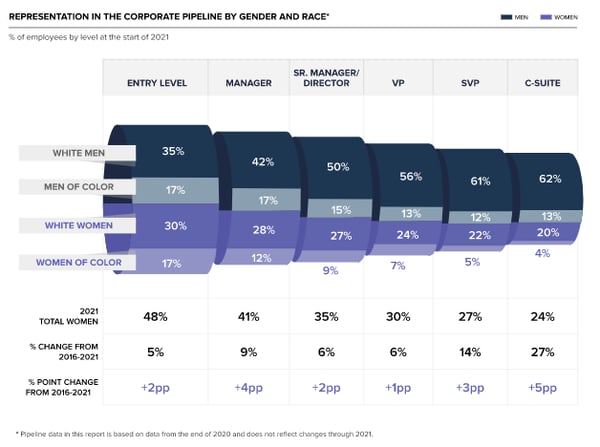 In short, women deserve a seat at the table — whether it's at the lab bench, the drafting table, the principal's desk, or the board table. Organizations must take a hard look at who they are hiring and promoting (and acknowledge who they might be passing over) by tracking who fills management positions. According to Lean In, women face a "broken rung" early in their journey up the career ladder: for every 100 men promoted to manager, only 86 women are promoted. That discrepancy only continues to grow at each subsequent career level, as illustrated in the graphic at the right. Representation at the entry level is just about equal, with 52% of men occupying those positions compared to 48% of women. The report notes that nearly two thirds of companies adopting bias training, policies, and best practices for hiring managers, which is certainly a contributing factor for equal representation at the entry level. These same tools should also be applied to the performance review process to ensure that representation doesn't diminish as women — and particularly women of color — advance.
2. And continues with accountability.
Of course organizations everywhere say they prioritize diversity, equity, and inclusion. The reality is that only two thirds of organizations hold senior leaders accountable for progress on diversity goals and less than one third hold managers accountable. These are the folks responsible for developing, coaching, and promoting talent. To increase accountability, organizations should include diversity metrics into performance reviews or even consider introducing financial incentives for meeting those goals. From Lean In: "Companies need to treat diversity as they would any business priority, and that includes tying progress toward goals to advancement and compensation."
3. Inclusivity must be supported and modeled by senior leaders.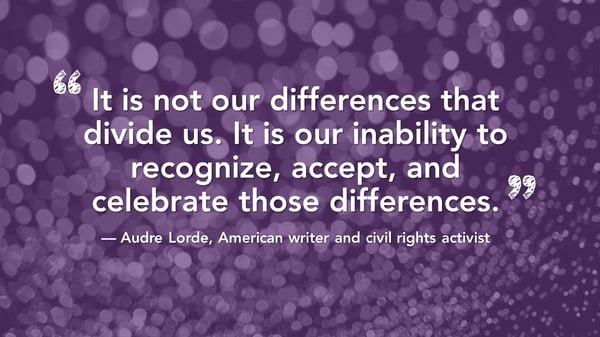 When it comes to the business-critical work of Diversity, Equity, Inclusion, and Belonging (DEI&B), senior managers must lead by example. Senior leaders set the tone and the culture of an organization — and they also set the budget for projects and initiatives. A key way for managers to fully embrace DEI&B efforts is through training. Training programs at all levels can raise awareness of inclusivity issues with an organization or an industry more broadly and equip leaders with the tools, language, and resources to make a difference. According to Lean In, "only 34% of employees have received anti-racism training in the past year, and just 14% have received allyship training." As with any new skill, inclusivity takes consistent reinforcement to truly drive permanent behavior change. At the corporate level, frequent reminders about how biases influence performance reviews and hiring have been proven to have a significant impact on improving the outcomes for women and employees with marginalized identities. Likewise, organizations can be explicit in defining inclusivity as it relates to the broader corporate culture and key values.
4. Actively address and reduce employee burnout by setting boundaries.
The past two years have been emotionally, mentally, and physically taxing for everyone — and for women in particular. In fact, Lean In found that 42% of women feel they have been often or almost always burnt out in 2021, compared to 32% the prior year when the pandemic was just beginning and compared to 35% of men in 2021. Over the past year, organizations have made good strides in addressing burnout by offering flexible working conditions, promoting mental health, and increasing paid leave. And yet, burnout is still on the rise, especially for women. Over the next year, organizations should continue experimenting with how to best combat burnout for their particular employees as there truly isn't a one-size-fits-all approach here. According to Lean In, "more than three quarters of senior HR leaders say allowing employees to work flexible hours is one of the most effective things they've done to improve employee well-being." However, the report cautions against affording flexibility without setting clear boundaries, which can lead to an "always on" work mentality. From Lean In: "More than a third of employees feel like they need to be available for work 24/7, and almost half believe they need to work long hours to get ahead. Only 1 in 5 employees says their company has told them they don't need to respond to non-urgent requests outside of traditional work hours, and only 1 in 3 has received guidance around blocking off personal time on their calendars." No wonder that burnout is on the rise. Once again, managers can play a pivotal role here by modeling healthy behavior, communicating the expectations, encouraging employees to set boundaries, and asking how employees would like to be supported.
Final Thoughts
International Women's Day and National History Month offer organizations everywhere the opportunity to pause, assess their DEI&B initiatives more broadly, and be more deliberate in how they can better support, empower, and advance women at every level. As we've seen in the four points explored above, this work starts with strong and capable managers and senior leaders. That's why we believe DEI&B belongs in every leadership development program. And, it's why we are so passionate about coaching and leadership development. At Entelechy, our mission is to make the world a better place; one leader at a time. When everyone has a seat at the table, we are all better for it. If we can be a partner to you as you do this important work, please contact us.
---
Recommended Reading
To see how we've commemorated International Women's Day and National History Month in the past, you might also enjoy reading these additional articles: