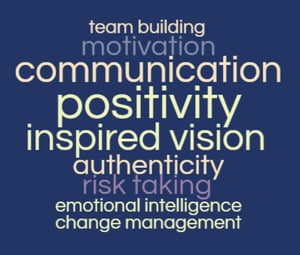 In today's increasingly virtual world, we need to re-imagine what success looks like from a leadership perspective. Let's start by asking ourselves what ONE leadership skill, trait, or characteristic a leader needs to possess today? You might be thinking: authenticity, emotional intelligence, positivity, motivation...
While most of the traits depicted in the graphic at right could arguably be #1 in any given situation — and all are clearly important leadership skills, traits, or characteristics — the most important leadership skill in today's virtual world is …
RELATIONSHIP BUILDING.
While emotional intelligence and team building include relationship components, the definition of relationship building is specific, focused, and purposeful.
Let me explain.
Recently, we were asked by a large global client to help design and develop a transition program to help new directors (manager of managers) transition effectively and efficiently into their new role. Intending to design a program that provided the most effective exposure, training, and on-the-job experiences, we sought the insights and opinions of 25 leaders who had recently made that very same transition. In conducting hour-long individual interviews, we asked: "What is the most important thing you can and should do as a person new to your role as director?"
While we heard about the importance of getting familiar with the tools of the job as well as understanding the measures that drive the business, virtually every one of the nascent directors explained how important relationship building was to their current success as directors. They explained why relationship building was so important:
Building relationships with your team members paves the way for more effective

—

and productive

—

business results in the future. When you work to get to know your team members

—

their communication style, what motivates them, what drives them nuts, what engages them

—

you not only demonstrate your priorities but you also strengthen the bond with the folks who are instrumental to your success and the success of the business.
Building relationships with your peers

—

perhaps in other parts of the region, country, or world

—

will give you access to people like you, people who can share tips and techniques, people who can help overcome a challenge, people who have been there and done that. One of our respondents was adamant that the relationships she built with her peers enabled her to succeed in a position that was stacked against her.
Building relationships with your boss ensures that you can benefit from their guidance and, perhaps more importantly, from their support. Frankly, at the director level, most of our respondents were able to operate quite independently out of the gate (see the previous bullet on building relationships with peers). What new directors need are connections, support for decisions they'll be making, and advice on how to become even stronger in the future. When you have built an effective working relationship with your boss, that support and advice come more openly and meaningfully.
Building relationships with your network enables you to get more done more quickly. At the director level, much of what your team does involves other business units and external groups. Getting to know these groups and building relationships with the leaders of these groups will serve you and your team tremendously in the long run.
Of course, each of these benefits only becomes heightened and more critical in virtual work environments. It's so easy to work in a vacuum or only interact with those team members you know well. Without the forced social interaction that comes with the traditional office experience, today's leaders of remote teams need to put in extra effort to strengthen existing relationships and forge new ones.
In the eyes of our director respondents, building relationships was so critical to a newly appointed director that they cautioned us in our program design to steer new directors away from:
Focusing on performance metrics. Several respondents cautioned: "No performance focus or metrics discussions with your teams for the first 30 days."
Establishing your vision as a new-to-role leader. Visions can come later. First, get to know the people and

—

through them

—

the challenges they face, the realities they experience, and the joys that carry them. Let your vision be shaped by those perspectives.
Anything desk- or office-bound.

Reach out and meet people. Join your team members' client or team meetings.

Experience a day-in-the-life-of a team member or a peer or a network member. Granted, this will require some creativity as folks continue to work remotely, but it can still be accomplished.
Overtly creating or casting your leader shadow. Leader brand

—

who you are as a leader and how you show up as a leader

—

is an important facet when taking on any new role, but your new role should be shaped by the job and the people as much as by who you are as a leader. Be aware of how you're coming across.
In our experience, one of the best tools for building relationships with your team, boss, peers, and others in your network is Everything DiSC®. Everything DiSC is one of several personality/social style assessments that help you better understand what drives you, how you tend to interact with others, and what motivates you. More importantly, Everything DiSC helps you understand what drives and motivates others. MOST importantly, Everything DiSC helps you flex from your natural style/preferences to work more effectively with others of different styles.
In the world of relationship building, Everything DiSC unlocks the mystery of why we click with certain people and why we clash with others. Everything DiSC helps us see the world through others' lenses so that we can empathize with, understand, and appreciate their perspectives.
Building relationships is critical for leaders whether new to role or not, whether leading a virtual team or an in-person team. Everything DiSC helps leaders at all levels build credible, productive business relationships with team members, peers, managers, and others in their network. And, in today's virtual world, relationships will be key to achieving success.
---
Learn more about Everything DiSC
Entelechy is your one-stop-shop Everything DiSC partner, whether you're looking to purchase a handful of assessments for your team, or you're looking to extend the power of DiSC across your organization through management and leadership training. As with all of our services, Entelechy isn't just a vendor, we're a true partner. When you order your Everything DiSC profiles through Entelechy, you receive a higher level of support than other providers, at a better price.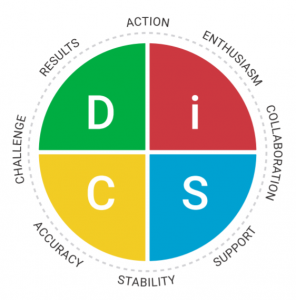 In the 30+ years that Entelechy has been in business, we've encountered many personality/social styles assessment tools and we are confident that Everything DiSC is the most comprehensive and effective solution available today. Above all, its simplicity makes it possible for your organization to experience an immediate return on investment. At the heart of Everything DiSC is the very simple and memorable DiSC model, which consists of four basic styles: D (Dominance), i (Influence), S (Steadiness), and C (Conscientiousness).
We're excited to offer Everything DiSC to our clients because we know the power this insight brings to individuals, teams, divisions, and entire organizations — and we've seen how it makes existing training and development initiatives more impactful.