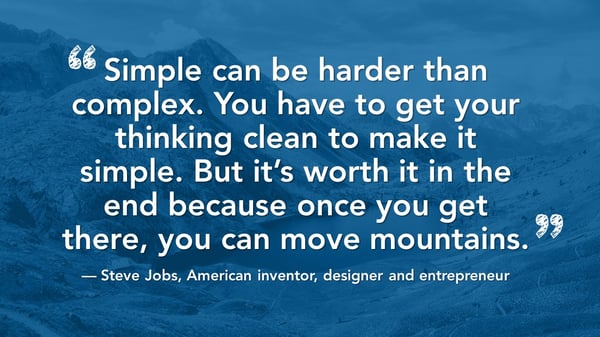 This quote by Steve Jobs on designing the iPod illustrates the challenge that is inherent in great product design: whether that product is the next big thing in electronics, or a website, or … a coaching model.
We've created leadership development programs for hundreds of organizations over the 25 years we've been in existence and, frankly, creating a program isn't that hard. Creating a leadership development program that is effective IS difficult. And often the very thing that makes it effective is its simplicity.
Simple models, simple instruction, simple application. Unbelievable results. Amazing changes.
When participants attend our flagship leadership development program,
Unlea
sh Your Leadership Potential
, they expect to get what they've experienced in other leadership development classes — good content, a twist or two on a leadership concept, and maybe a tool that they might be able to use back on the job.
And this perception is affirmed when we preview the modules: Analyzing Performance, Powerful Feedback, Coaching, Difficult Conversations. Yawn….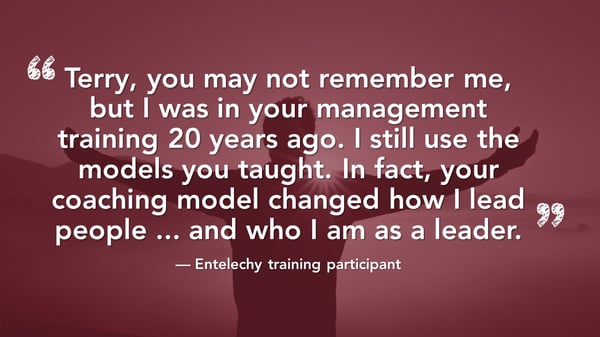 However, when participants complete the program, they are transformed. Not because we cover new ground; we believe that the basics are crucial and that to be an effective leader you must first be an effective manager. Entelechy has successfully cleared the weeds and the clutter to reveal simple — and highly effective — models that transform leaders.
While many leadership development programs take great pains to DESCRIBE how managers should coach, Entelechy's models PRESCRIBE what managers should say. That's a critical difference — one that not only changes behavior, but sustains that change over time … even 20 years.
This PRESCRIPTIVE approach is based on a philosophy: to change your attitude, you must change your behavior. We believe — and our experience confirms our belief — that behavior + results = attitude change. And change in attitude is the engine that drives and sustains lasting change.
Many leadership development programs focus on changing participants' attitudes, not behaviors. They emphasize the IMPORTANCE of leading and the COMPONENTS of effective leadership. Yet most of us already know that leading is important and we already know what makes for effective leadership. We just don't know what to do or say.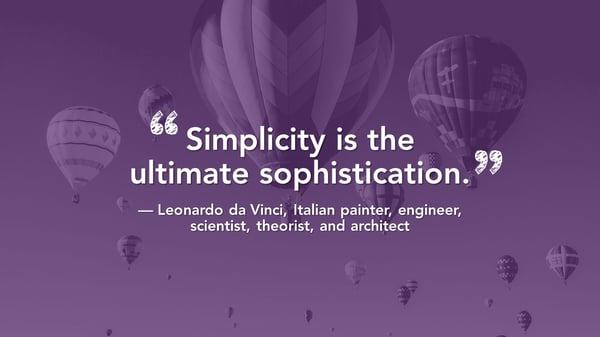 Think of losing weight. We all know that eating healthy and increasing physical activity are two critical elements to losing weight. And we know what's healthy food and what's not. So why do many of us (including me) struggle mightily with weight control? It's not attitude. It's behavior.
My most successful weight loss programs have provided me with a PRESCRIPTIVE approach to begin with — controlled menus and portions, monitored activity, frequent check-ins, etc. By following a prescribed path, results come quickly. And the results motivate me to continue following the prescribed menu and activity. Until the Doritos call me back…
Unleash Your Leadership Potential focuses on behavior change first. When participants see that our models will actually work — and work effectively — on the job, their attitudes begin to change. And when they use the models on the job and see how effective those simple models are, transformation happens.
No other leadership development program provides the simple, prescriptive models that Unleash Your Leadership Potential does. And no other leadership development program achieves the sustained business impact that Unleash Your Leadership Potential does. Why? It's simple! Click the button below to learn more about our award-winning program.