Leading is easy when times are good, the economy is growing, and employees are engaged and fulfilled. Leadership is tested when times are tough, business is down, the future is uncertain, and employees are frightened. The good news is that you can recession-proof your leadership development initiatives by freeing your organization from costly, recurring licensing fees.
While the economy is performing well today, according to Deloitte's CFO Signals Survey, almost all participating CFOs (97%) say they expect a U.S. downturn in the next two years (although they are split on the expected duration and severity).
Ironically, it is at those very times — when money's tight, mission is fuzzy, employees are restless — where we stop supporting our leaders. Leadership development programs (along with most training) are slashed due to cost cutting and more urgent priorities. In case you don't remember the last recession or weren't in the working world when it happened, check out this February 2009 article from ATD for some interesting historical context.
Of course, righting the ship is critical to the long-term (and even short-term) viability of the organization so of course leaders need to spend time leading. But why can't we continue to support them as well?
Many organizations rely on external vendors to address their leadership development needs. This approach may work well when cash is available but not so well when the purse strings tighten. And when the leadership development programs disappear, leadership capability disappears along with it … at the very time it's needed most.
Since its founding in 1992, Entelechy has operated with a single purpose — to create unique leadership development programs that CLIENTS OWN and can use without additional fees … EVER! These programs are THEIRS to use in good times AND in tough times.
In fact, we're perhaps the ONLY leadership development company that allows — even encourages — our clients to modify their customized program; why shouldn't your leadership development program grow as your company grows? We suggest, for example, that our clients extract the module on Analyzing Performance (which includes our free mobile app) and re-purpose it as part of the organization's annual performance appraisal training. Or use the Difficult Conversations model as part of the company's project manager training.
The economy is doing well today. Will you be prepared for the eventual downturn? How will you continue providing the support your leaders need during those challenging times? Contact us to recession-proof your leadership development.
---
Leadership Development's Impact on the Bottom Line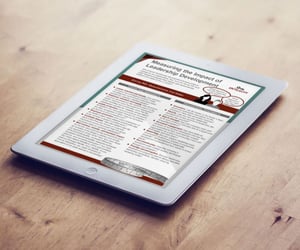 We all know leadership development brings positive change to an organization. But, how do we as HR and L&D leaders measure that impact and demonstrate bottom-line value to the C-Suite — especially with a recession on the horizon?
Entelechy's Leadership Development ROI Reference Guide outlines numerous ways to quantify the value of leadership development programs, including:
Employee retention and loyalty
Skill mastery, transfer, and business impact
Improved bench strength
Increase in industry awards won
Download the reference guide today to make the case for leadership development, regardless of the state of the economy.