By Terence Traut, Entelechy Founder and CEO
Entelechy is celebrating our 30th anniversary! It has been an amazing experience. Let me tell you about it.
I Never Wanted the Job
Of CEO that is.
Back in 1991, three of us colleagues had been working together for several years doing sales training for a large high-tech company. With more bravado and bluster than sense, we decided that we could build a sales training curriculum that would be groundbreaking and enable us to strike out on our own. Jeff was the head of the nascent organization, Dave sold and delivered, and I was the designer and developer. For almost a year we worked weekends and evenings to build the training, and Jeff and Dave began marketing the program.
When Jeff made our first real sale, we realized that we couldn't in good faith continue working at our real jobs and do Entelechy as a side hustle. So, we agreed to quit to form Entelechy. Unfortunately for me, Jeff and Dave decided to quit and go to another company leaving me with the first of many difficult decisions: do I take on the work we had through Entelechy or do I go find a real job?
Against my better judgement, I opted for Entelechy, took over the reigns as CEO, and — for the last 30 years — made this my life's work. Not knowing what a CEO does, I read an awful lot those first few years. But, taking on the role of CEO was — and continues to be — the hardest (and best) thing I've ever done.
Why Am I Doing This?
One of the first things I decided was to figure out why I was doing this anyway. Surely, it wasn't because it was easy. In the early days, I wore all the hats — marketing, sales, client relations, design/development, delivery, accounts payable and receivable, and everything else. Of course, there was only one of me, so juggling also became a huge requirement.
There were three things I wanted from my work that I hadn't been getting in my previous jobs. The first was pride in seeing the immediate and lasting effects of my efforts. Usually, the designer and developer turn over the training to a facilitator who delivers the training. The account manager works with the client to make sure the training has the intended impact. Now I was filling all those roles and could see what activities or explanations work best; now I could see the impact the training — MY training — had on people and their work.
The second thing I wanted was to offer true value. Having been a training manager at the aforementioned high-tech company, I dealt with the many training vendors who offered nothing new, required that we use their facilitators or printers, and shackled us with a "do not modify" license while charging us an annual licensing fee. Entelechy — I dreamed — would be different. We'd customize the training to make it relevant to each client. We'd license the program so the client could use it and modify it as they wished — forever! We'd train the clients' trainers if they wanted. And, we'd be there as much — or as little — as the client wanted. I wanted Entelechy to be the kind of training partner that our clients wanted to work with … over and over again.
The third — and perhaps most meaningful — desire I had when starting Entelechy was to spend more time with my two daughters who were six and eight years old. I went to almost every recital, school event, sports match, awards ceremony, and school dance where I chaperoned (much to the dismay of my daughters). Our vacations as a family got better and longer and more frequent.
These three goals of mine — direct business impact, clear client value, and flexibility to enjoy family — became the cornerstones of who Entelechy is as a company.
Making Room for Others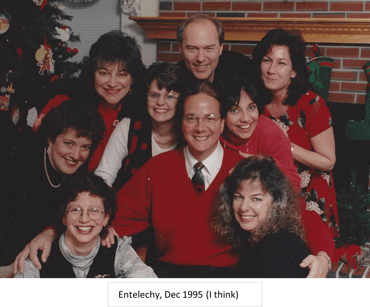 As I mentioned, I didn't fully embrace (and haven't fully embraced) the stereotypical role of CEO. But, I did know that what Entelechy was — a place that provided an opportunity to hone one's craft, to positively impact others, and to make time to be with family — had appeal. As a result, I offered the opportunity to others who relished and thrived in the independence, flexibility, and supportive thing called Entelechy.
Over the years, I've used a fairly simple hiring practice: hire the most eager and growth-oriented people available. Many talented and experienced people come with a high price tag … something we couldn't swing at Entelechy. However, I recognized a demographic who were eager to reenter the workforce and practice their craft, but weren't able to take 40-hour-a-week, 9-to-5 positions because they had children's schedules to consider: mothers. (Remember, this was the 1990s and remote work and flexible scheduling really didn't exist.) Mothers need flexibility so they can be there when their kids come home from school or when they need to take the kids to Cub Scouts or soccer practice. Entelechy has always allowed for the flexibility that mothers (and — as the world discovered since the 1990s — fathers, sons, daughters, young, old … everyone, frankly) need and, as a result, we have always benefitted from talented and loyal employees. (We were remote and flexible before remote and flexibility were things!)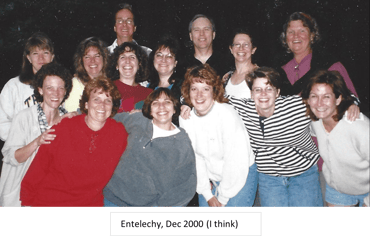 Similarly, we hire great people. While we have talented people, that talent in most cases is home-grown or — at the very least — refined. We allow and help employees develop their design, development, and program management skills over time. As a result, we have what I think are the best people whose number one superpower is their ability to grow and develop continuously. As a result, we have as one client put it, "a big footprint for a small company."
Bumps Along the Way
There were of course challenges along the way. The greatest challenge comes from our greatest asset. Because of our breadth of talent and because those talented people are curious and current, we often struggle with taking on too much or stuff that's too new … because we can. While it's exciting to be building amazing learning journeys on a social learning platform or to design and deploy a multiple-language 360° leadership assessment or to craft an eLearning module on Rise or to leverage the unique engagement capabilities of the virtual training platform, Adobe Connect, it's tough to stay abreast of it all … without becoming exhausted.
Finding one's groove can also be challenging. I'm a morning person and typically am at my desk at 4:00am. I settled into this routine very early on when I noticed that important personal things — track meets, lacrosse matches, cross country meets, etc. — tended to take place in the mid-afternoon. I also always work … and always play; I have deliberately avoided drawing a line between work and play (much to the chagrin of popular "work-life boundary" advocates; to me, it's all just life). This allows me to do fun, non-work things when the mood hits or when the sun's shining. For some Entelechy employees, finding that groove requires some work. But, it's worth it.
Still Best
Looking back over the last 30 years is overwhelming in a positive way. Departing from our early days as sales training provider, Entelechy morphed into a leadership development company and our programs and models have impacted hundreds of thousands of leaders across the world. We like to think our training makes better leaders who, in turn, develop more engaged and productive employees who go home to their families happier and more fulfilled and bring that joy to their spouses, children, and friends. "We make the world a better place, one leader at a time." And, our many awards remind us that the industry — our industry of professional trainers who see and hear the impact we have every day — agree that we positively impact the world.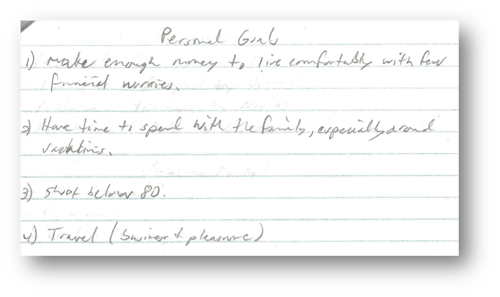 As I was digging through my bin of Entelechy stuff, I ran across this sheaf of notes from an early 1992 planning meeting where we discussed what we wanted from Entelechy.
Among my personal goals was to make enough money to live comfortably with few financial worries. This I've done. Financially, I'm comfortable as I near retirement; I'm not rich, but that's more because I believe that profits shouldn't line my pockets, but should be invested back into the company or divvied up among the employees who did the work.
Another goal was to have time — actually, to carve out the time — to spend with the family. As I already mentioned, this I've done and hopefully my family looks back on those shared times with as much fondness and meaning as I do. I feel that I've gotten to really know my daughters over the thousands of hours I've watched them, encouraged them, and just been there with them. I'm proud of who they are now at 36 and 38 years … and feel a bit like I helped.
My third goal was to shoot below 80. Yes, I am a golfer (or was back then) and yes, I shot below 80 a fair number of times since writing that goal. (I've even had two holes-in-one!)
My last goal was to travel. I've always loved, learned, and found growth and purpose in travelling and seeing the world. I always feared that being the CEO would limit my availability of time for myself and my own personal interests, and I knew that if I could turn this business global, I'd have the opportunities to travel and work. As my wife, Cathy, and I neared retirement age, I really focused on this goal, and was happy that even though I kept working past my wife's retirement, she was able to join me on my travel as I delivered trainings in places like Milan, Shanghai, San Francisco, Amsterdam, and Warwick, England. Entelechy has enabled me to make wonderful memories and explore while working — I couldn't be more grateful.
Our Sincere Appreciation
To all our clients, you have helped us realize our most important goal — to be of value to YOU and to show a direct impact on your leaders and your organization. It has been our greatest joy.
To all of Entelechy's employees, past and present, thank you for making Entelechy Entelechy. Thank you for allowing me to be the CEO who isn't. Thank you for building your A-Game here, for using those talents on behalf of our clients, and for sharing those talents with your colleagues … making Entelechy something that — after 30 years — I can look back on with immense pride.
---
See What Clients Are Saying
In honor of our 30th anniversary, we recently asked clients to share how Entelechy has impacted them and their organizations over the years — and we were blown away by the outpouring of love and support.