As we enter another year of this "next normal," we'd like to take this opportunity to pause and reflect on the successes and milestones we achieved in 2021. Our team, like countless others, adapted to our new ways of working with grace, creativity, and flexibility. We invite you to take a moment and think about all that your team accomplished in the past year.
Without further ado, here are some of the key achievements we celebrated in 2021: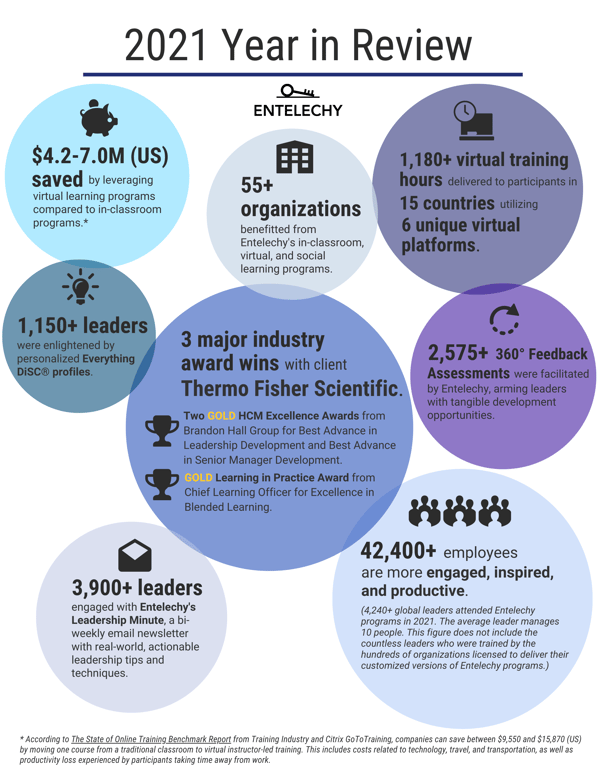 Above all, we are most proud of the fact that our team further refined and improved the all-virtual version of our flagship leadership development program, Unleash Your Leadership Potential, and delivered it to leaders all over the world. Notably, we invested in the success of this program by hiring a full-time producer to our team. This addition allowed us to quickly identify virtual training best practices and apply them to all deliveries. The end result is a powerful and engaging learning experience. And, we know that engaged learners are better equipped to change behavior back on the job, resulting in lasting positive impacts at their organizations.
As you begin the new year, please don't hesitate to reach out if we can serve as a resource, brainstorm partner, or helping hand. We're excited about all that's in store for the year ahead!
---
Learn More: Unleash Your Leadership Potential-Virtual
Our flagship leadership development program targeted at frontline and mid-level leaders is now available 100% virtually. Contact us to discuss how we can best meet your organization's unique needs at this critical time.